The 3D2N battle in TP

Date: 22nd April 08 - 24th April 08
Total Anglers:10 pax
Level of confidence: 101%
On the 22nd April 08, 10 anglers went on an offshore trip to Tanjung Pinang (TP). Early in the morning, at 8am, all of us met at TMFT to check-in our Fishing equipments and baggage. At around 0930am after having breakfast, we took the Wavemaster ferry from TMFT out to TP and reached the TP jetty at roughly 1030am. Seriously, every one of us was extremely excited and most importantly ready to fight the TP big monster from the deep.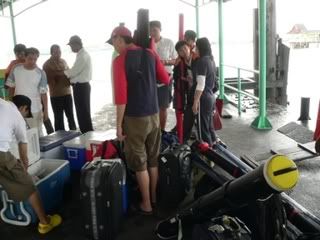 Our battle gears
At 11am, we took our early lunch at a well-known Chinese restaurant with pretty decent Chinese dishes served to us especially the cuttlefish ball and the Fried Oyster which really suit my taste. After our mouth-watering lunch, we took the transport to our Jetty which is roughly 45minutes away from the main TP jetty. Along the way, we stop by to buy some groceries from the local supermarket.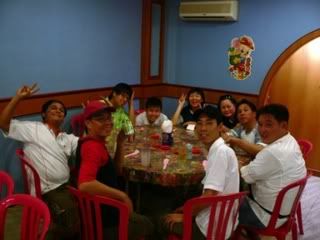 Its lunch Time
The Chinese Restaurant at TP
At around 2pm, we boarded onto our big and comfortable fishing boat which we will be staying for the 3 days 2 nights. Onboard the boat, there is a Captain, 4 deckie and a cook following us throughout the trip. Before my TP trip, I have read up many TP catch report whereby many anglers had successfully landed biggy and therefore most of the anglers would bring their slightly heavier tackles to target the big ones. In our trip, there is a couple of expensive and medium-heavy equipment brought by our fellow anglers. There were Shimano Tiagra, Accurate 665H and 270, Banax Kaigen Electric reel, Shimano Kaikon 3000T which are mend for and very much adequate to fight any big ones above 10 over kgs in weight. As for my arsenal, I brought along my ShimanoTorium30 matching with my PE6 Shimano Jigwrex which I used for challenging the bottom creatures, Shimano Aerlex8000 with my PE2-4 Zeus Legend Spinning rod for light bottom or jigging and lastly for the light jigging setup, a Daiwa Caldia Kix 4000 with my newly bought Majorcraft Offblow PE1.5-3 jigging rod.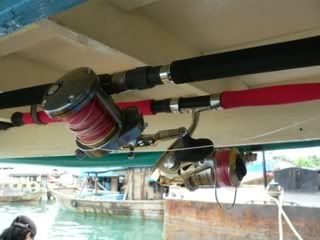 My Arsenal for TP
Our first spot was approximately few hours away from our starting point and we have ample of time for us to setup our gears. Along the journey, Kelvin Lee and O'hara setup their trolling gears hoping to land some surface feeding monster. One of the Malay boat helper, Gus, who can speak pretty good Teochew dialect, helped everyone to tie the bimini knot with our braided lines onto a shock leader and I mean he can really tie the knot pretty fast and skillfully good. As I only believe in FG knot, I usually prefer my setup to have such knot on my lines. Seriously for bottom fishing, 50lbs and above braided is a must and for shock leader, 80lbs FC or Mono is highly recommended for TP water.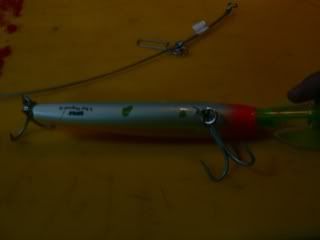 The injured trolling Lure
At around 6pm, Kelvin Lee's Trolling setup suddenly screamed at us for helped. All of us can see the speed of the line coming out or should I put it bursting out from his Accurate 665H at an alarming high speed. Something big and powerful should have taken his Rapala X-rap and there is no way for him to be in control even with his full drag on. It was quite impossible for any Accurate reel with full drag turning on and yet unable to stop the big bugger. After checking,then he found out that his Drag was not setup properly and that is not the worst as the scariest moment for Kelvin is that all his braided is almost used up and any second, he could lost all his Power-Pro lines to this monster. Fortunately for him, at that very last moment, the Rapala came out of the monster mouth and he was able to recover back his few hundred meters of line. While inspecting the lure, we can clearly see the tooth-marking on the middle part of the Rapala. What a moment for Kelvin Lee on his encounter with the big monster indeed.
After our luscious dinner, we reached our first fishing spot. Kelvin Lee and Sulin immediately got a respond on their line and a 3.5kg Crimson Snapper (Ang Kuey) and a 6kg Sweetlip (Kaci) was landed respectively after a good rod bending action for the 2 of them. Not too long, Kelvin Ng also landed a 5kg Crimson Snapper on his electric Banax reel. Sean who is using his Accurate 270 landed a 6.5kg deep-sea Catfish. O'hara the man who brightens up our trip with joy and laughter landed an almost 7kg Crimson Snapper with his handline. In fact, I can clearly see O'hara had a very tough time bringing back his line from the 60m bottom as well as fighting up the big snapper. Desley also caught a 3kg Tengirri with his bottom setup and Sulin caught many big ones at her particular spot with another 6kg grouper and a couple of big catfish within an hour with her Shimano Kaikon setup. I being the unfortunate one did not even have a chance in contributing bring up any fish at that point of time. No matter how the Deckie and the Captain helped with my tying of leader, changing fresh bait or even trying jigging my line to attract the fish attention seems useless. Everyone was laughing at me, and what can I do? In the end, the Captain went into the Kitchen and brought out a small pail of water. I was a bit puzzled of what he was doing and finally realized that the water was used to sprinkle and washed away the "Bad luck" on my setup.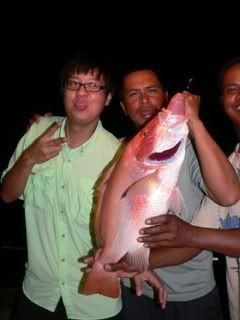 Kelvin Lee with his Crimson Snapper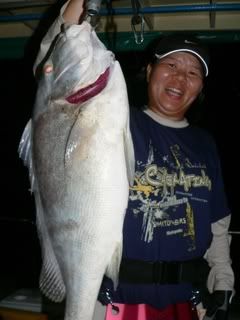 Sunlin with her big Sweetlip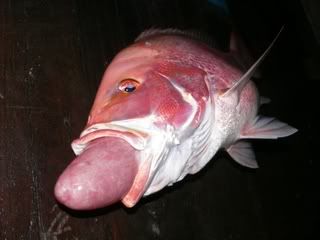 Wanna lick Me?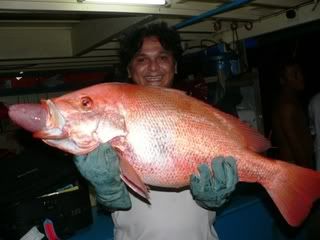 Kevin O'hara with his big Crimson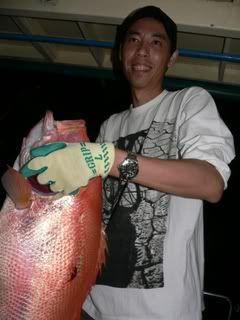 Kelvin Ng with a Crimson Snapper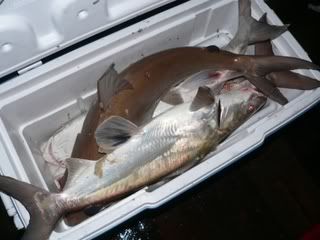 Who let the cats out of the bag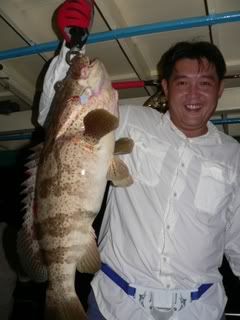 Michael with his Greasy
Surprisingly, after 5 minutes, I managed to have my very first fight of the day. It was a tough fight and my PE6 Jigwrex was bending like an alphabet "C" with the line rushing out from my Torium. There is no way for me or the fish to admit defeat at this moment. After 10minutes of fight, the fish finally surrendered to me and a big Stingray was landed. Hooray…What a victory for me! Throughout the night, many monster sized catfish and reef shark was landed. A couple of big Kaci was landed as well and for me, I managed to fight 4 pieces of big Crimson Snapper with my Shimano bottom setup. All of us had a pretty good result for our first night fishing.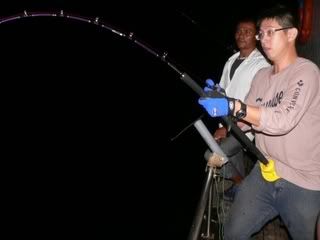 The bending moment of my Jigwrex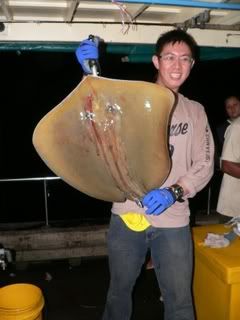 My heavy Stingray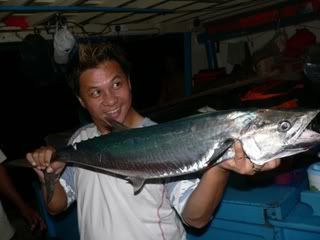 Desley with a Tengirri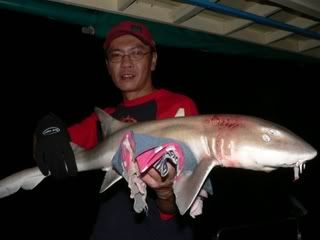 Linus with a Reef Shark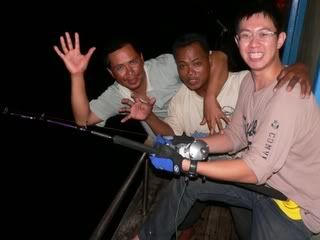 Fighting with joy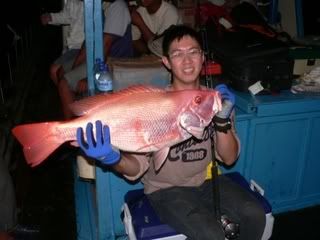 After a tiring fight
The Second day result is not as good as the first as the sea tends to be slightly choppy than before. Although the quantity is not as much compared to our previous day, the quality of the fish remains. Fishes of sizes between 2kg-4kg was landed such as Grouper, Bream Snapper and Crimson Snapper and etc. At one of the promising Crimson Snapper spot, I missed a big one as fighting halfway through, the fish escaped. However, not long after, I managed to land a 7.5kg big papa Crimson snapper which was the biggest snapper of our catch. During the night while we are fishing, we had a surprise by a group of Dolphin which came near to our boat. All of us were delighted to see dolphin swimming underneath our boat and it was a delighting moment. O'hara was in action during the night when his Shimano Tiagra setup caught something which is very big whereby he was not able to bring up the fish after fighting for almost 20 minutes. His setup was passed to Michael, Gus and to Kelvin Ng but ended up with a "PIAK" sound when Kelvin took over the rod for less than a minute. The line had burst and everyone's urge in seeing this monster has shattered at that very moment. Shocked and disappointment can be seen on O'hara faced. Unfortunately, there was no other big action from anyone of us after losing the big unknown monster.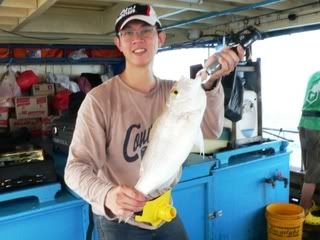 My Bream Snapper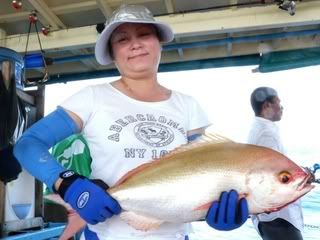 Daphne with a Japanese Red
Desley with a big Crimson Snapper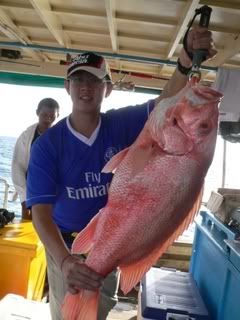 Me landed a big Crimson Snapper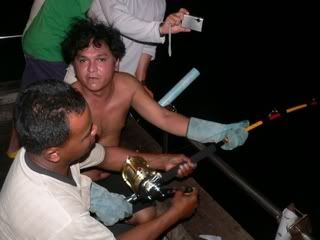 Tired O'hara with biggy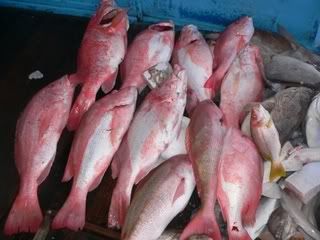 The red Carpet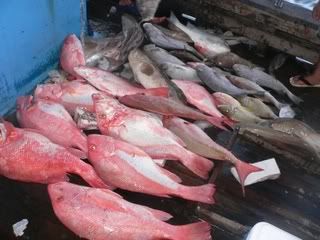 Partial Catch of our trip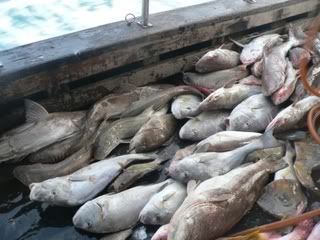 The fishy group photo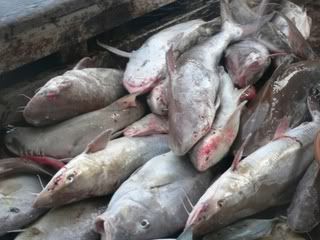 Smile....Hello Kitty!!!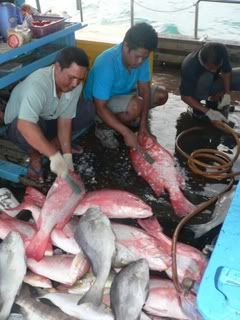 The Clean up session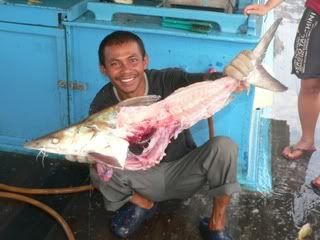 Hello Kitty fillet anyone?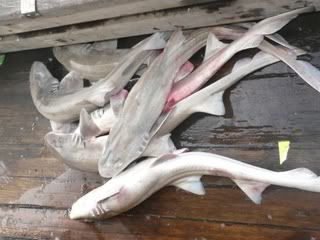 The Shark Tales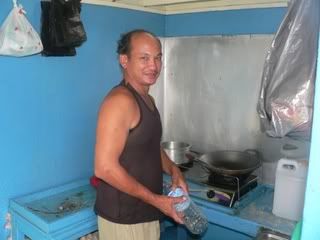 The "Ritz Calton" Chef with splendid Culinary
The Tag Team Champion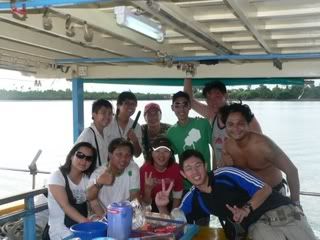 The TP fishing gang
Overall, we have very good company with jokes and laughter for the whole trip. Many big fishes were landed as well as many big ones were lost during the fight. All thanks to our team leader, Michael, who had organized this splendid offshore fishing trip for us. Without him, this trip will not be so successful. Nevertheless, I'll be looking forward to fish with the same gang and for my next TP trip; I will definitely be more prepared to face my opponent.
The Victory